Introduction to the Rolex
Lady-Datejust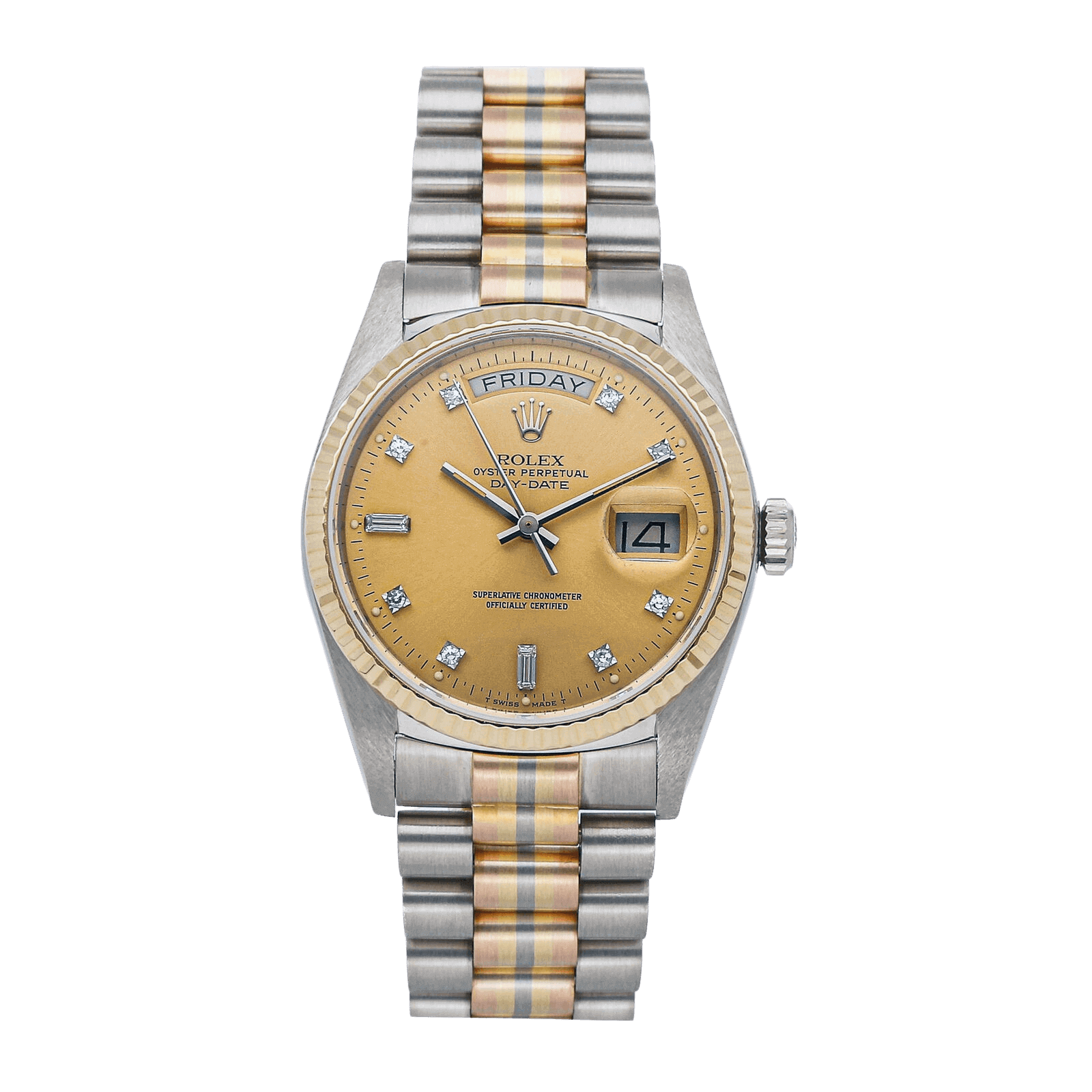 A smaller version of the men's Datejust, the Rolex Lady-Datejust has been a mainstay of the brand's catalog for well over six decades. In fact, it's been widely reported that the ladies' Datejust is the best-selling Rolex watch ever made. The secondary market is home to a vast assortment of pre-owned Rolex Lady-Datejust watches, ranging from simple steel models to lavish gold and diamond iterations. Regardless of the specific style, the iconic design of the Rolex Datejust is instantly recognizable.
History of the Rolex Lady-Datejust

The Rolex Datejust men's model made its debut to mark the brand's 40th anniversary. As its name suggests, the Datejust watch includes a date display, which is positioned at 3 o'clock. In 1953, Rolex introduced the Cyclops lens to magnify the date window. Affixed to the exterior of the crystal, the protruding Cyclops is now an essential component of the Datejust. In 1955, Rolex modified the date mechanism so that it would change instantly at midnight rather than rolling slowing over a few hours.

In 1957, Rolex released the Lady-Datejust watch with near-identical features as the men's version but with a smaller 26mm case. Like the original, the Lady-Datejust featured an instantaneous date window at 3 o'clock, magnified by a Cyclops. Furthermore, it ran on a chronometer-certified automatic mechanical movement, which was housed inside a water-resistant Rolex Oyster Datejust case.

Over the following decades, Rolex expanded the Lady-Datejust collection to include a wide assortment of case materials, bezel styles, dial designs and bracelet options. What's more, Rolex continuously improved the mechanical movements that powered the Lady-Datejust. For instance, in 1983, Lady-Datejust watches introduced a quickset mechanism to allow the date to be set independently from the timekeeping hands.

In 2015, Rolex discontinued the long-running 26mm Lady-Datejust and replaced it with the slightly larger Lady-Datejust 28mm. The Lady-Datejust 28 is equipped with the new Caliber 2236, which offers improvements in performance and power reserve.
Lady-Datejust Timeline
Rolex Oyster Perpetual Datejust for men
Cyclops magnification lens introduced to the Datejust
Instantaneous date change introduced to the Datejust
Rolex Oyster Perpetual Lady-Datejust ref. 65xx
Lady-Datejust ref. 65xx with new Caliber 1166
Lady-Datejust ref. 69xx with new Caliber 2035
Lady-Datejust ref. 69xxx with new Caliber 2135 (quickset)
Lady-Datejust ref. 791xx with new Caliber 2235
Lady-Datejust ref. 1791xx
Lady-Datejust 28 replaces Lady-Datejust 26
Rolex Lady-Datejust Design and Maintenance

While you'll find plenty of size options among Rolex Datejust watches for sale in the secondary market, it's important to note that the vast majority of pre-owned Lady-Datejust watches are 26mm. There are, of course, pre-owned Rolex Datejust watches with 28mm cases available, but not as many since they are relatively new to the market. This isn't to say that women don't opt for used Rolex Datejust watches with 41mm, 36mm, or 31mm cases—they certainly do. However, only the Rolex Datejust 26 and 28 are officially called the Lady-Datejust.

All Rolex Lady-Datejust watches share the following features:

A round Oyster case with a screw-down winding crown

A date window at 3 o'clock on the dial magnified by a Cyclops lens

A COSC-certified automatic movement

The Lady-Datejust collection is Rolex's most varied when it comes to metal choices. In true Rolex fashion, there are many Datejust diamond options for ladies too, ranging from gem-set hour markers on the dial to full diamond-paved models. You can find used ladies' Rolex Datejust watches in the following materials:

Stainless steel
Yellow gold
White gold
Everose gold
Combination of steel and gold (Rolesor)
Platinum

Bracelet options are varied, including the dressy five-link Jubilee bracelet, the sporty three-link Oyster bracelet and the luxurious President bracelet with semi-circular links. The Lady-Datejust and the Datejust 31 are the only two watches outside of the Day-Date collection that includes the option of the President bracelet. (When comparing the Day-Date to the Datejust, remember that the former includes two calendar windows and is exclusively available in precious metals. On the other hand, the latter has one calendar window. There are plenty of Rolex Oyster Perpetual Datejust stainless steel models to choose from.)
Datejust Categories
Due to the countless pre-owned ladies Rolex Datejust watches available in the secondary market, it's easiest to segment them into three groups: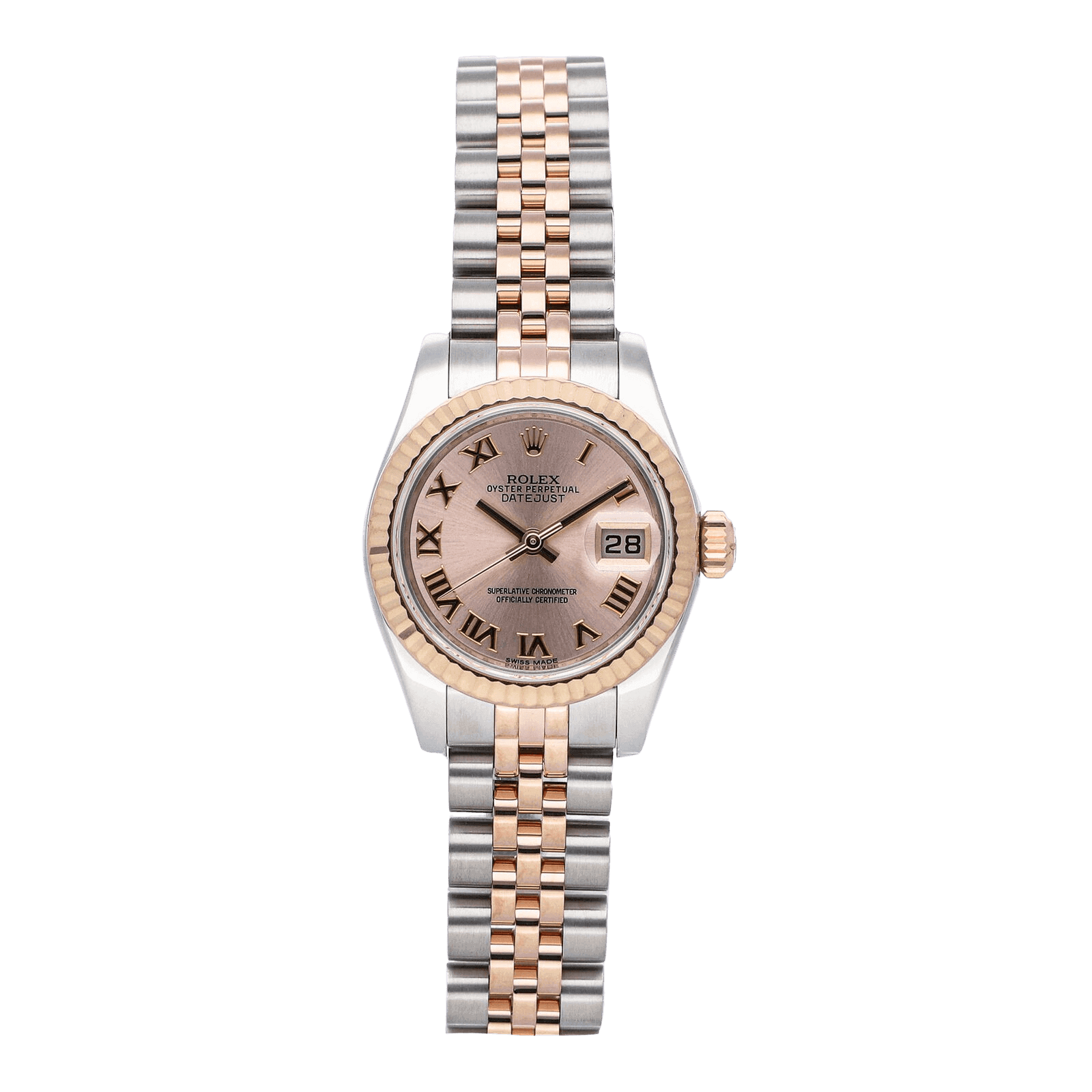 Non-Quickset Lady-Datejust 26mm

Four-Digit References: 65xx, 69xx
Produced from 1957 until 1983 (vintage Datejust)
Acrylic crystals
Wearer has to continuously turn the hands past midnight to change the date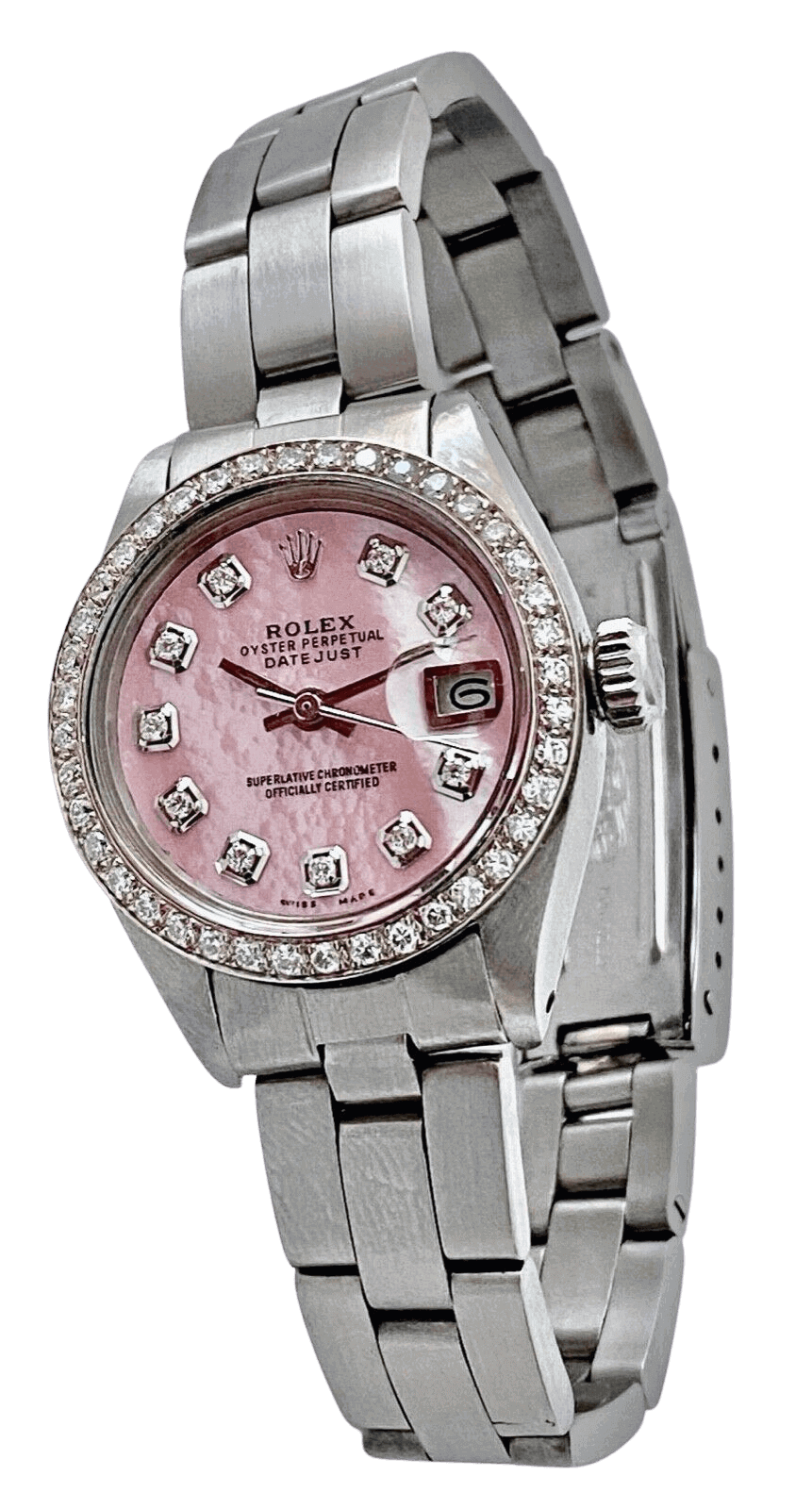 Quickset Lady-Datejust
26mm

Five- and Six-Digit References: 69xxx, 791xx, 1791xx
Produced from 1983 until 2015 (discontinued Datejust)
Sapphire crystals
Date window can be set independently from the time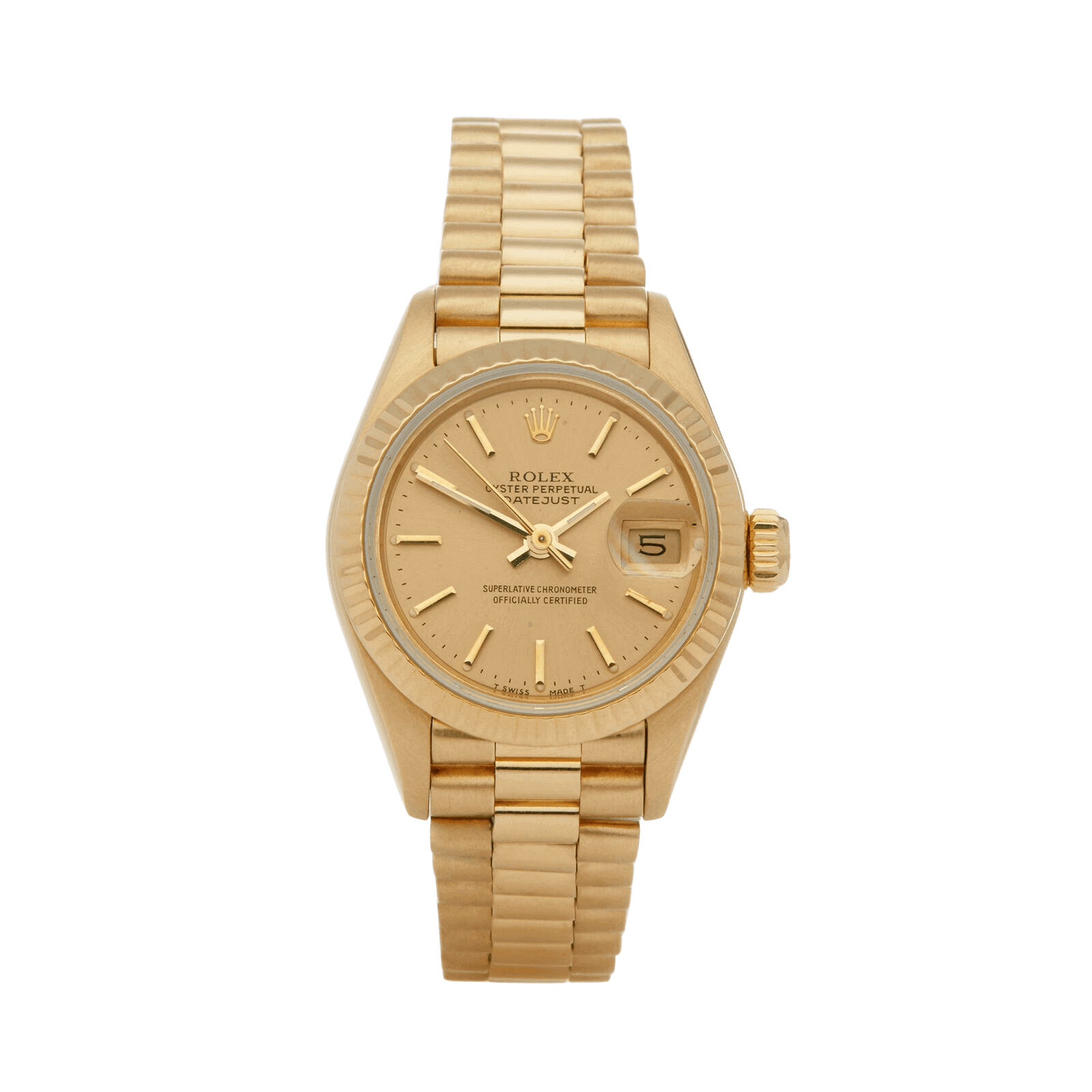 Lady-Datejust 28mm

Six-Digit References: 279xxx
Production began in 2015 (current Datejust)
Sapphire crystals
New-generation caliber with quickset date, -2/+2 seconds per day accuracy rating and 55-hour power reserve
If you're taking your Lady-Datejust for a swim, make sure that the winding crown is securely screwed into the case to maintain the watch's 100-meter water-resistance rating. However, if you're wearing a vintage Datejust or have not serviced your Rolex in over a decade, it's best not to get it wet as it's unlikely to still be water-resistant.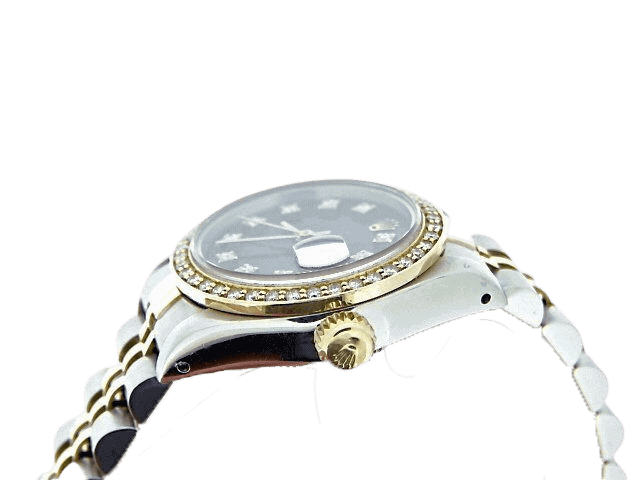 Rolex Lady Datejust Value and Collectability

Due to the immense variety of models produced over 60 years, Rolex Lady Datejust prices vary dramatically. Four-digit vintage Datejust 26 watches in steel or two-tone steel/gold typically range from $1,500 to $2,500 while full gold and/or diamond versions are priced about double that.

Steel or two-tone pre-owned Lady-Datejust models from the 1980s and 1990s range from about $2,500 to $5,000. Full gold used Lady-Datejust models from the same era with President bracelets normally start at $5,500 and can reach $8,000 if there are diamonds on the dial.

Used Lady-Datejust watches made in the 2000s are usually the priciest among all the 26mm Datejust models. Steel versions start at about $4,000 while two-tone steel and yellow gold versions start at around $6,000. However, full gold pre-owned Lady-Datejust 26 with President bracelets generally start at $10,000 but can quickly reach more than double that, depending on diamond embellishments.

The least expensive Lady-Datejust 28 watch in full steel retails for $6,750 but can be found hovering around the $5,000 mark for pre-owned versions. On the other end of the spectrum are the full gold Lady-Datejust 28 and platinum Lady-Datejust 28, which retail for $25,000 and $40,000, respectively. While you can find pre-owned Lady-Datejust 28 in precious metals at slightly discounted prices in the secondary market, these newer Rolex watches are currently holding their value quite well.