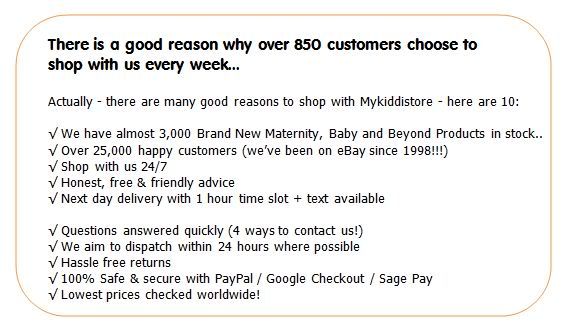 Wheelybug Large & Small
Wheelybugs go backwards, forwards, sideways, round and round ... they can be ridden, pushed, pulled, kissed and cuddled! These ride on bugs, great for both boys and girls, almost have a magical mind of their own.

Wheelybugs are designed to offer hours of robust fun and help to promote self-confidence, spatial awareness and gross motor skills.

The distinctive shape of the Wheelybug is very user friendly. The bright designs are an instant attraction to girls and boys alike. They go backwards, forwards, sideways, and round and round. Children don't get stuck against obstacles like some other ride on toys. Wheelybugs help promote gross motor skills and balance like no other toy.

Wheelybug bodies have a padded layer of sponge which is covered with a tough layer of polyurethane leatheroid and can be easily wiped clean. They are great to use on smooth level floors and ideal for indoors.

Available in the following designs; Ladybird, Cow, Mouse, Tiger, Bee and Pig

Size small - Suitable for 1 - 3 Years (36cm long x 23cm high x 20cm wide)

Size Large - Suitable 2½ - 5 Years  (46cm long x 28cm high x 26cm wide

Wheelybug Awards

Practical Pre-School Awards 2010 - Bronze 0-3 years Toys & Games Category

Top Toys Awards 2010 - Silver (0-36 months category)

Winner - Best Toy Award 2000, 2001, 2003, 2005: (Independent Toy Specialists of Australia)

Highly Commended - Best Toy (1-3 years) (Mother and Baby 2005/06 Awards

Gold Award - Best Overall Toy (Right Start Toy Awards)

International & European Safety Tested (EN71)

Frequently Asked Questions
Have they been safety tested?
Wheelybugs have been certified tested to EU, US, AU/NZ and JP standards.
How much can it carry, can I sit on it?
The maximum recommended rider weight is 25kg; however each wheel is rated at 30kg giving a total safe working load of 120kg!! Adults can happily take a spin on them, or they make a very handy low mobile stool!
Can they be used outside?
Any smooth, flat surface is suitable. However keep them away from dirt or sand as this can get into the castors and slow them down. Also do not leave the toy outside in the rain or direct sunshine for long periods as this can damage the surfaces.
Can they be used on pavements?
They will run on pavements but the castors may become damaged in time. Don't worry, replacements can be purchased from us.
Will they run on carpet?
Obviously it is slower going on carpet, but your child will get a good work out!
FEATURES
The wood base is made from plantation grown poplar plywood and has distinctive rounded contours
The handle is aluminum so it won't rust
The "feelers" are made with stainless steel spring and have an internal limiter cord to resist pull out
The plastic multi-directional castors are rated at 30kg each giving a total safe working load of 120kg
They offer unlimited mobility and are for use on all level surfaces
Wheelybugs are handmade and beautifully crafted from the highest quality materials
Please note: we have over 20,000 positive feedback on ebay and over 75,000 delighted customers online. We are
a VAT registered company and serious about our business. We want to provide the best service for our customers
every single time. We have over 3,000 items in our inventory and stock is changing constantly on a daily basis.
We therefore advise that dispatch times will be between 1-3 days. If you need an item urgently - you can always
send us an ebay message to check stock availability.
| | | | |
| --- | --- | --- | --- |
| | | | Additional Items in Description |
| | Approx 4 - 7 days from dispatch | | |
| | Approx 1 - 3 days from dispatch | | |
| | Approx 24-48 hours from dispatch | | |
| | Depends on destination. From just 2 days.. | Select delivery country from "Postage and payments" tab or purchase and await an invoice with the correct shipping cost. | |
| | Depends on destination. From just 2 days.. | Select delivery country from "Postage and payments" tab or purchase and await an invoice with the correct shipping cost. | |