Each tablet of Bio Chondroitin Sulphate provides 400mg of patented CS Bio-Active™ the most researched brand of Chondroitin sulphate in the world) from the renowned joint expert, Bioiberica SA, Spain who has dedicated over 30 years to the research and development of solutions to joint problems.
Chondroitin Sulphate helps to alleviate joint pain by:
1. Providing Cushionining & Reducing Impact & Friction During Movement

Chondroitin acts like "liquid magnets", drawing water into the proteoglycan molecules, making cartilage thick and spongy, and increasing the synovial fluid in your joints. This provides a "cushioning" effect and enhances the shock-absorbing capacity of your joints – reducing impact and friction whenever you move, walk or jump.

2. Delivering Vital Oxygen & Nutrients into the Joints, Removing Waste Materials from the Joints (add image)
One of the most important functions of Chondroitin is its role as a conduit to deliver vital oxygen and nutrients to the cartilage while s imultaneously removing carbon dioxide and waste materials. As the joint cartilage has no blood supply, all of its oxygenation, nourishment and lubrication come from the synovial fluid. Loss of Chondroitin due to advancing age, injury or illness can cause a loss of this vital fluid, leaving the cartilage malnourished, dried up, thin and fragile. Furthermore, without proper nutrition, cartilage damaged by injury or normal wear and tear is unable to regenerate or heal.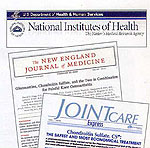 It is important to take Chondroitin when taking Glucosamine because it facilitates the process of getting Glucosamine into the joints. Studies, including one published in the New England Journal of Medicine, concluded that a combination of Glucosamine and Chondroitin is significantly more effective in protecting, reversing damage and promoting repair in joint cartilage.
3. Other Functions of Chondroitin:
Inhibits cartilage-destroying enzymes such as collagenase, elastase and cathepsin that break down or dissolve the cartilage
Arrests joint inflammation by getting to the root of the problem - inhibiting the activity of COX-2.
At least 9 randomised, controlled, clinical trials concluded that Chondroitin Sulphate is as effective as sodium diclofenac, a potent pain killer.
*CS bioactive™ is the registered trademark of Bioiberica S.A., Spain
Directions for Use:
Take 1 tablet 2-3 times daily. Do not exceed the recommended dose unless advised by your doctor or other healthcare professionals.
Ingredient:
Each tablet contains 440.2mg Chondroitin Sulphate Sodium (equivalent to 400mg of Chondroitin Sulphate), Stabilizer (Polyvinyl Pyrrolidone E1201, Polyvinyl Pyrrolidone E1202). Humectant (Sorbitol Powder E420), Antifoaming Agent (Polyethylene Glycol 6000), Anticaking Agent (Magnesium Stearate E572, Silicon Dioxide E551)
Nutritional Information

Servings Per Package: 30
Serving Size: 580mg (1 tablet)


Per 100g

Per Serving

Energy

277kcal

1.6 kcal

Protein

21.10g

0.10g

Total Fat
- Saturated Fat
- Trans Fat


0.20g
0.20g
0.00g

0.00g
0.00g
0.00g

Carbohydrates

47.70g

0.28g

Sugars

0.40g

0.00g

Sodium

430mg

24.94mg
In any event where payment had been made but item already out of stock , a FULL refund will be made !
Local Postage Charges

Delivery Services via Singpost

Delivery Time
(estimated working days)

Postage
(Inclusive handling fee)

registered mailing if you're paying by paypal

2 to 3 working days

free

For all sent items (either by normal or registered mail) ,I will leave a return address at the back of the parcel

☺ For all Health & Beauty Products ☺

5% off for 3 or more qty ( applied to individual items ) .

5% off for 2 or more sets ( applied to set items ) .

☺ Making your payment …Please read ☺

Buyers paying by paypal for your purchase,your item(s) will be send via registered mail with tracking numbers provided.

( Sorry, no normal mailing for this mode of payment )

Buyers paying by bank transfer (POSB / OCBC), you can opt if you wish to have your item(s) registered.

Some buyers may want to save on postages and will opt for normal mail instead .

For this case, please note that I'll not be responsible if the parcels are lost .

The best and only thing I could do is to leave my return address at the back.

And if normal mail is opt , SGD$3 will be deducted from your total bill .
Worldwide Shipping Charges

Delivery Services via Singpost

Delivery Time
(estimated working days)

Postage
(Inclusive handling fee)

Standard Regular Mail/small package via registered air mail

7 to 14 working days

sgd$13.60

( tracking no. will be provided )