__Description_____________________________
THIS IS A LISTING FOR THE 1 BOTTLE - 10ML BLUESKY SHELLAC COLOUR / TOP COAT / BASE COAT
CHOOSE FROM LIST OF COLOURS BELOW AND SEND A NOTE CONFIRMING YOUR DESIRED COLOUR/COAT (VIA PAYPAL OR EBAY) WITH YOUR PURCHASE TO AVOID DELAY IN DISPATCH
40000 Top Coat
40001 Base Coat
40501 Cream Puff:lovely clean white for French manicures
40502 Negligee: sheer pink colour for nude nails or french manicures
40503 Cappucino: sheen copper colour
40504 Romantique: Pink shade
40505 Tropix: lovely pinky red colour
40506 Tutti Frutti: Hot Pink
40507 Hot Chillis: Pink
40508 Wildfire: deep firey red
40509 Red Baroness deep rich red
40510 Fedora deep rich black purple
40511 Rose Bud: pink sheen
40512 Strawberry: pink
40513 Beau: lovely sheer pink colour
40514 Cocoa:Caramel Nude colour
40515 Masquerade:Deep Lucious Red
40517 Iced Coral:Sheeny Coral colour
40518 Black Pool: Lovely deep Black Gothic Colour
40519 Pop Pink: Lovely Bright Candy Pink
40520 Mother of Pearl:Shimmery glitter type overlayer for layering on coloured shades
40521 Hollywood: Lucious Merlot
40522 Gotchya:Bright pink
40523 Clear Pink: Sheer pink for Manicures
40524 Royalty:Rock worthy deep purple
40525 Decadant:Deep Red.
40526 Studio White: Striking White
40527 Zillionaire
40528 Moonlight & Roses
40529 Hotski to Tchotchke
40530 Purple Purple

40531 Ashpalt
Shellac is a breakthrough, patent-pending UV3 technology that combines the ease of polish with the performance of gels. A true innovation in a chip-free, extended-wear colour.
The formula is thin and flexible like polish, so it not only looks natural, it provides strong natural nail protection with a resilient mirror finish that resists dullness and chipping. There is absolutely no damage to the natural nail in the process. The patent-pending formulation of solvents, monomers and polymers is why Shellac goes on like polish, wears like gel and removes in minutes. Plus its hypo-allergenic and 3-FREE... containing no formaldehyde, toluene or DBP.
Like any quality polish application, the Shellac system features a Base Coat, Colour Coat and Top Coat. Unlike traditional polish it cures under a UV lamp so there is zero dry time. The results: 14-day, glorious, high-gloss shine that truly is addictive!
Bluesky is the 2nd most known Shellac brand after CND. (It has also been rumoured that CND make their shellacs at the same factory, but has not been confirmed by either company).
Bluesky shellac comes in 30 colours, plus Base and Top coat. Additionally, there are new colours entering the market all the time.
__Features________________________________
14-day high-gloss wear
Mirror Finish
Zero Dry Time
No Nicks, Chips or Smudges
Featuring UV3 technology
On like polish, Wears like Gel, Off in minutes
Provides a revolutionary new colour service for nails
FREE from Formaldehyde, Toluene or DBP (Dibutyl Phthalate)
No Odour or Smell
30 Fantastic Colours to Choose From
__Instructions for Use_______________________
How To Apply:
Please follow the instructions below for best results.
NOTE: do not remove the sticky residue left by each layer until the end as this helps the layers to adhere better to the nail.
Step 1: Sanitise, prep and push back cuticles
Step 2: Gently remove the shine using the 100/180 buffer in the direction of nail growth
Step 3: Apply BLUESKY Base Coat in a THIN application from cuticle to free edges and seal the edges of the nail.
Step 4: Place hand in:

LED UV Lamp for 60 seconds; or

Step 5: Apply BLUESKY Shellac Colour in a THIN application from cuticle to free edges and seal the edges of the nail.
Step 6: Place hand in:

LED UV Lamp for 60 seconds; or

Step 7: Repeat Steps 5 & 6
Step 8: Apply BLUESKY Top Coat in a THIN application from cuticle to free edges and seal the edges of the nail.
Step 9: Place hand in:

LED UV Lamp for 60 seconds; or

Step 10: Wipe off the tacky layer with at least 99% isopropyl alcohol for a durable, shiny finish.
How To Soak Off
Step 1: Use 180 girt file. Gently file the surface of the gel polish to break the seal and remove the shine.
Step 2: Place a cotton saturated with remover over the nail.
Step 3: Wrap up foil for 10 minutes. Thereafter, gently remove gel with the wood stick.
Step 4: Use 220/280 buffer to lightly buff surface of nail.
Step 5: Apply hand and nail nourish cuticle oil.
NOTE: If you have done fill maintenance on the nails, the removal time maybe longer.
__Dispatch________________________________
We dispatch as follows:
Order Placed

at any time

on:
Order Dispatched on

Monday

Tuesday

Tuesday

Wednesday

Wednesday

Thursday

Thursday

Friday

Friday

Monday

Saturday

Monday

Sunday

Monday

__Related Products__________________________
VISIT OUR SHOP
for BlueSky Shellac Top Coat and Base Coat as well as Full Sets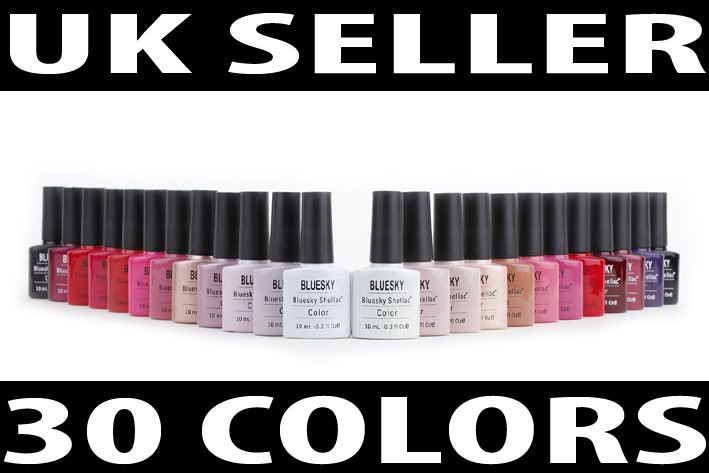 __Note of Caution__________________________
This is
100% GENUINE BLUESKY SHELLAC
. This is not CND or any other brand. Shellac is a type of resin that is generically used in CND, BLUESKY and other nail polishes and gels. (See Wikipedia)
Complaints on the basis that "It is not CND" will be vigorously resisted.
__30-DAY 100% MONEY BACK GUARANTEE__
30 - DAY NO HASSLE NO QUESTIONS ASKED RETURN POLICY - 100% CUSTOMER SATISFACTION
OUR RETURN POLICY IS VERY SIMPLE: YOU HAVE 30 DAYS TO RETURN YOUR UNOPENED ITEM FOR EXCHANGE OR REFUND. FOR ANY REASON WHATSOEVER.
FOR REFUNDS WE WILL ISSUE A FULL REFUND, INCLUDING THE POSTAGE COSTS YOU PAID TO US (IF ANY).
THERE IS NO RESTOCKING FEE, NO ADMIN FEE, NO ANY-KIND-WHATSOEVER FEE.
100% SATISFACTION IS OUR GOAL