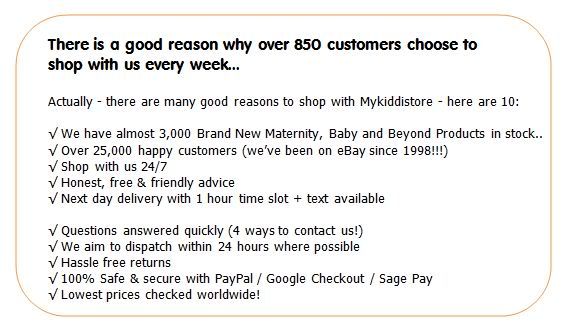 Avent Teats Silicone Teats x 2
Healthy, active feeding with the AVENT Airflex Teat your baby controls milk flow more like breastfeeding, which can help reduce overeating and spit up. A unique skirt system flexes to allow air into the bottle and promotes healthy, active feeding and reduces colic.

The Avent Airflex teats or nipples are made of silicone and are soft and broad in shape. It is designed to help reduce colic in babies through its unique venting system where the air flows back into the bottle instead of to baby. It is also designed to be breastfeeding friendly as the teat is shaped as close as possible after a mother's breast. The Airflex teat system also controls the flow of milk to mimick that of breastfeed flow. The Avent nipples come in three flow sizes, from 1 to 3.

mykiddistore Guide
0m = Newborn flow - 1 hole, suitable for breastfed and/or premature babies
1m = Slow flow - 2 holes: slightly faster flow than Newborn flow
3m = Medium flow- 3 holes, for 3 months And older
6m = Fast flow- 4 holes, for 6 months And older
Variable flow - with a slot instead of holes, for 3 months onward
Please note: we have over 20,000 positive feedback on ebay and over 75,000 delighted customers online. We are
a VAT registered company and serious about our business. We want to provide the best service for our customers
every single time. We have over 3,000 items in our inventory and stock is changing constantly on a daily basis.
We therefore advise that dispatch times will be between 1-3 days. If you need an item urgently - you can always
send us an ebay message to check stock availability.
| | | | |
| --- | --- | --- | --- |
| | | | Additional Items in Description |
| | Approx 4 - 7 days from dispatch | | |
| | Approx 1 - 3 days from dispatch | | |
| | Approx 24-48 hours from dispatch | | |
| | Depends on destination. From just 2 days.. | Select delivery country from "Postage and payments" tab or purchase and await an invoice with the correct shipping cost. | |
| | Depends on destination. From just 2 days.. | Select delivery country from "Postage and payments" tab or purchase and await an invoice with the correct shipping cost. | |